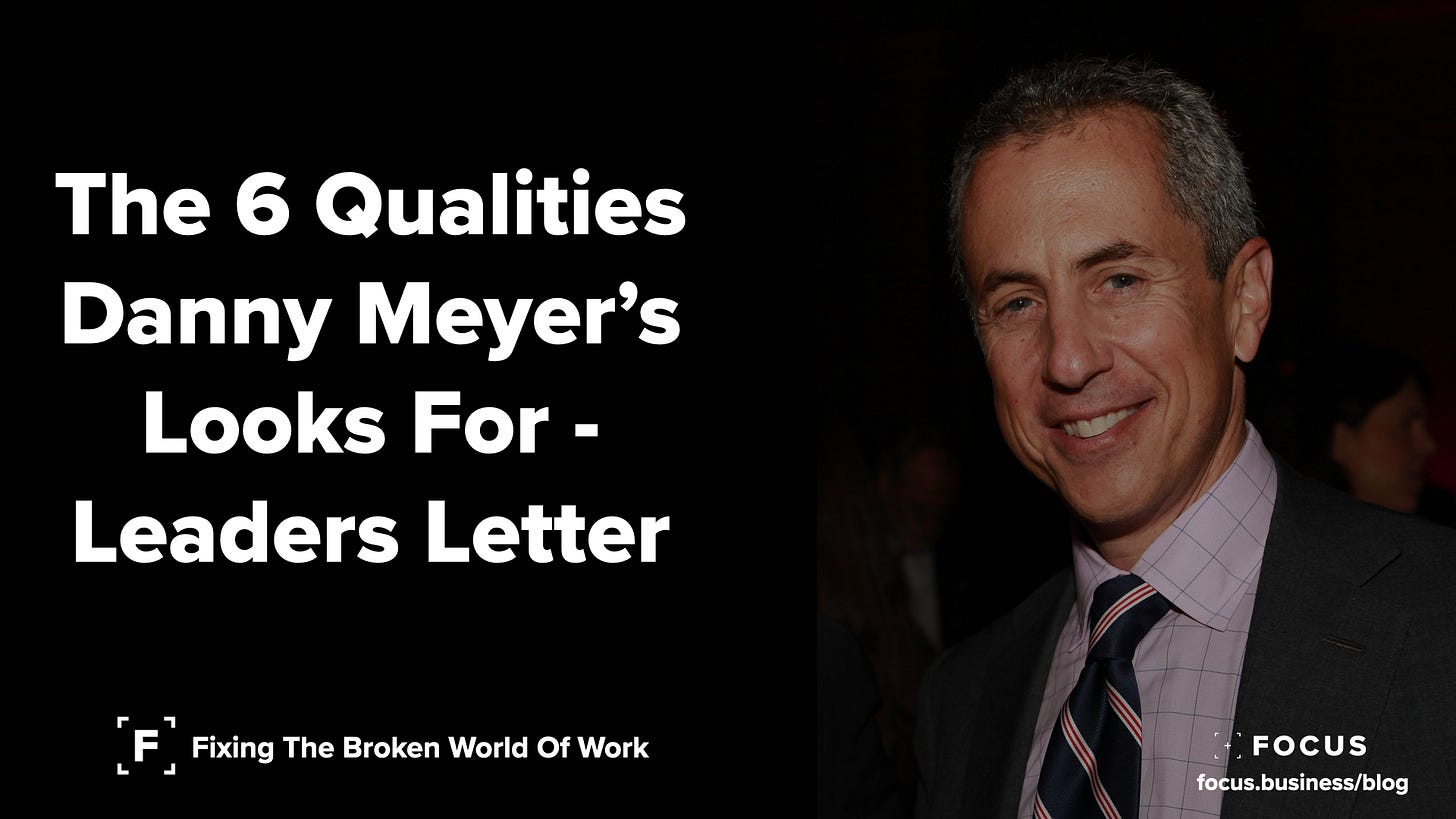 Dear Leaders, Happy Monday!
Today I have a Leadership Lesson(s) from the chief executive officer of the Union Square Hospitality Group Danny Meyer's.
Danny is well known for having some of New York's best restaurants and is well known for creating Shake Shack.
Fun Fact: Danny spent $1m searching for the perfect freshly cut fries and found out frozen were best.
Danny has spoken openly about his successes and failures, I want to share the 6 qualities Danny Meyer's and his team look for when hiring.
FYI this interviewing training and practise letter pairs very well.
Danny Meyer's 6 Qualities
The 6 qualities Danny Meyers hires for and looks for (hint as much EQ as IQ and build great organisational health):
Kind Optimism = optimistic kindness, how you can be vigilant and remember important pieces of information and think of kindness as an asset.
Curiosity = we are not a finished product, staff see every day as an opportunity to develop.
Work ethic = sensitive reflex, excellence reflex, work matters to them.
Empathy = able to put yourself in someone else's shoes.
Self Awareness = understanding we all have different drives and we all feel 'difference every day'. It is how we help each other and are aware of our off days.
Integrity = judgement to do the right thing and care about it.
Integrity and empathy (EQ) can often be talked about and referenced unfortunately in most workplaces politics and ego gets in the way.
Perfect Chief = Half The Battle
Danny has a 100 point scale he looks for. Even if you are the best chief you only hit 49/100.
He scores the rest from his six qualities. Showing this, explaining it, living it and enabling your teams to live this way is essential.
One takeaway that many leaders rarely shout about when they implement principles or the teams follow principles: Celebrate the qualities in others.
I highly recommend you listen (shared below) to the whole podcast but consider how you could roll similar leadership principles.
Have a great week,
Danny Denhard
---
Recent Important Reads To Help Your Leadership
---
🎙 Podcast: The Knowledge Project With Shane Parrish 🎧
Want to know even more about Danny and his background watch 👇