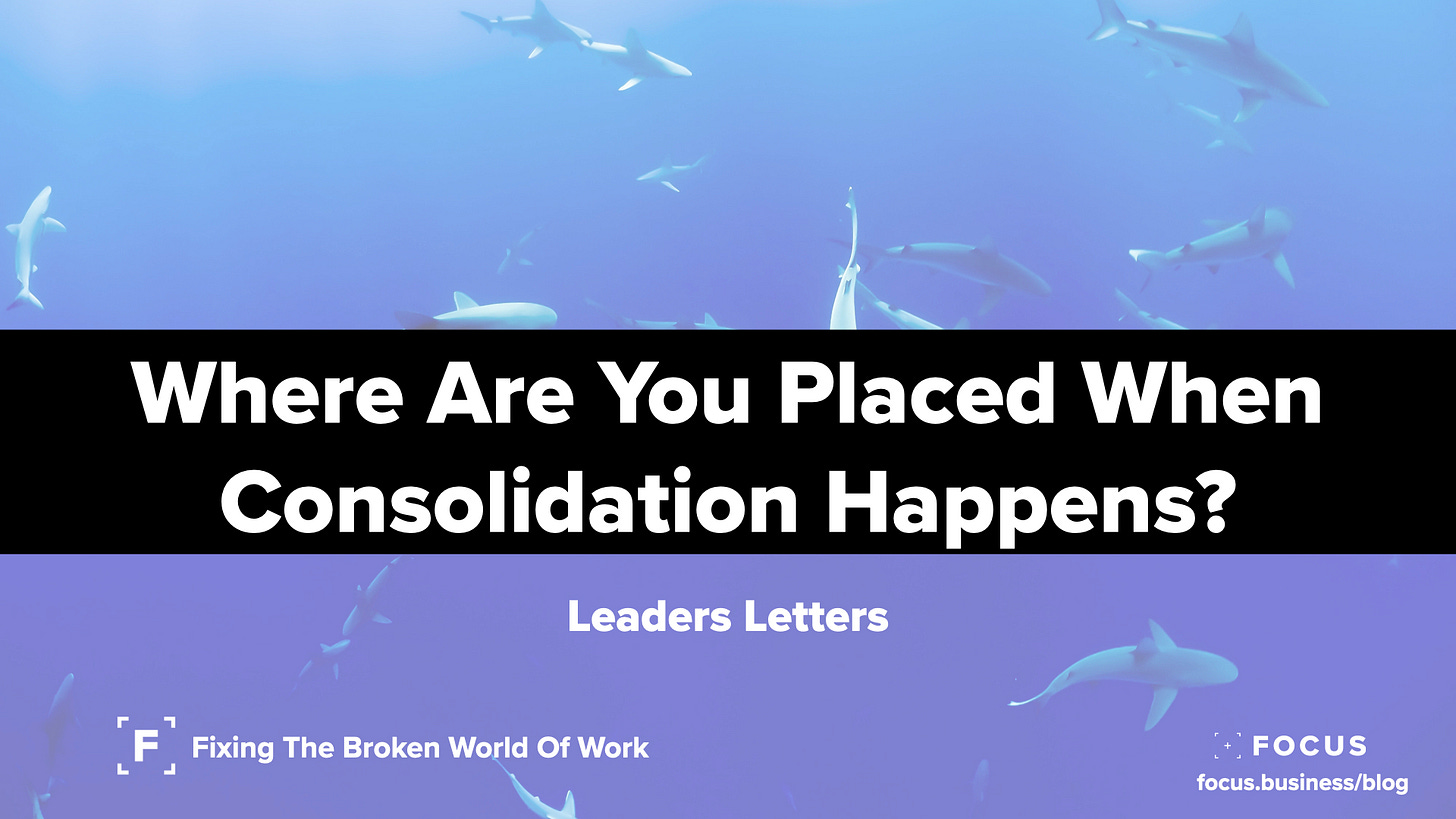 Dear Leaders, consolidation is about to happen and it's imperative you are on the right side when it happens.
There are two ways of doing business, bundling and unbundling (the famous Jim Barksdale quote has been proven right many times over the last decade).
What tends to happen in both scenarios is consolidation, you see something ripe for unbundling, many flock to unbundle a large incumbent and then phase two of acquisitions and mergers take over.
We see disruption, we see innovation, we see lower prices or more convenient services come to market and as consumers (particularly the early adopters amongst us) we love it.
The next phase is messy and can get bloody.
We race to zero and that's not a fight for the faint-hearted. This phase influences careers, impacts even the strongest company cultures, it can also create short to mid-term obsessed business strategies that reshape your business and the industry.
Businesses end up having to consolidate, they have to sell or go through a sale to ensure the company survives or can compete for the long term.
Why? Consumers end up with too much choice and have to vote by selecting their side, their default and truth be told, the most convenient, the cheapest, or the biggest perceived brand. Being the brand in your market is often the most underdeveloped action taken by businesses in the last five years.
We saw this with apps on your phone selling to larger companies, the music industry saw independents selling to large companies and to the tech and social platforms, we saw social networks buy up chat apps, photo sharing apps and live streaming platforms.
We are about to see this with podcasts (exclusives, first listens, only available on x), TV (we have too many services with +), ride-hailing (Uber vs Lyft in the US, Uber vs Bolt in EU) and apps on our smart devices and gaming.
I have been in two markets that ended up consolidating quickly and it actually killed off competition and creativity across the board, not just in the companies I operated in.
It has a real impact on your company's performance and you lose that thing that drove your business on and that spark in your culture that was that extra versus competitors.
The question for many over Q4 and into Q1 of 2022 is what side are you going to land when consolidation happens in your market?
Are you in a place to acquire or are you going to be on a larger companies shopping list?
Are you preparing the business and the people to understand what consolidation means for the business and their careers?
Action Needed: If you are unsure where you are landing in your role, find out quickly and prepare yourself and those around you.
Consolidation should never be a surprise.
For many this is an opportunity phase, for others, it's a phase of threat and concern. Work out what side you are on and help to share the knowledge with your management teams and help them support their teams around them.
This Q4 is going to see the largest numbers of people needing help and suffer from a record amount of burnout, consider how you help your teams, don't just stop meetings like Google did or roll out meeting-free days, think about how you support mental wellness apps, therapists and bonus afternoons off that's designed for people to organise their time and work around it. Consolidation will create some fear and heighten concern if not handled correctly.
Have a great week ahead.
Thanks,
Danny Denhard
Important Reads For Your Week Ahead